My Story
I'm Emily Capuria, a working mom with one amazing kiddo, one beautiful beast (a Bullmastiff named Stella) and one ultra supportive & loving hubby. I am grateful as hell for how things have come together for me. It took a lot of hard work, an incredible support system, some really great luck and at least one big ass miracle.
I love this life I live….and it can also be stressful too. The big thing I've learned along the way is that that's just how life goes – it's one big mashup of the good, the bad and everything in between.
And when you can embrace that as true, it takes the pressure off of trying so hard to stay in the good. Marriage, parenting, business, writing – it's all good…and it's also really freaking hard.
The other big thing I've learned along the way is that happiness really happens when you figure out who you are and what you want (your core), and you live your life ac-cording to that every single day. Not always easy, but definitely worth it and truly the key to living a happy, fulfilling life.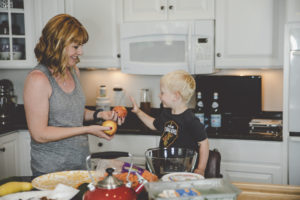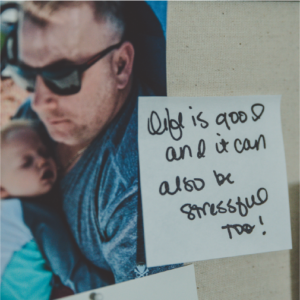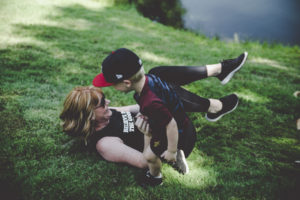 Balance & Thrive's Story
I started Balance & Thrive in December of 2012. My education and professional background is in psychotherapy. I became fas-cinated with food and how it impacts the body while I was navi-gating my own personal journey with unexplained infertility.
In 2009, I miscarried early in the second trimester. I had fallen instantly in love with that baby and when the heartbeat stopped, I felt like mine did too. I've never in my life felt so broken.
Infertility had become this dark cloud that infiltrated every single area of my life and I knew that if I wanted to make it through, I needed to start doing things differently. I needed to look at my worst case scenario – the very real possibility of never having children – and find a way to be happy anyway.
Balance & Thrive is what I created because of that loss. It's the meaning that I gave to my journey. I know what it's like to feel completely alone, broken, lost and overwhelmed.
I also know what it's like to find new purpose and meaning in your life. To find peace and acceptance with where you are while also being hopeful about the future.
It's possible to be happy – to live a purposeful, meaningful and connected life – even when there's something in your life that's also stressful, hard, sad or complicated.
Maybe you're drowning in credit card debt, hate your 9 to 5 or just filed for divorce. Life is messy…and it's also amazing too.
It's not one or the other. It's not all or nothing. You don't have to avoid the pain in order to feel the joy. In fact they can coexist quite beautifully. You can learn more about how to find balance in your life here.