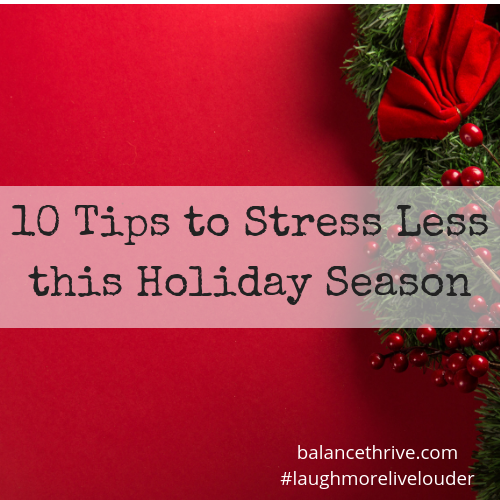 I don't know about you, but this week, I have been feeling a little bit Grinchy. My patience, and holiday spirit, have been in short supply.
It happens sometimes this time of year – extra long to do lists, high expectations vs. real life and things often not going quite as planned.
When I feel that Grinch vibe coming in, I kick up the self care – I get outside, move my body, eat healthfully and do some things that are extra relaxing. For me, it's the only way to keep it together and not totally lose my sh$t!
So in case you're feeling a little stressed out, overwhelmed…or even a little Grinchy, I thought I'd share my 10 Tips to Stress Less this Holiday Season.
Get outside! Breathe in that crisp fresh air and soak up some sun! It'll help you get that much needed Vitamin D and stimulate the production of your happy hormones.
Tunes, please! Listen to music – maybe a Christmas carol or two. Turn it up, sing it loud and dance it out.
Breathe in some citrus. It's a great mood booster. Btw – naval oranges are in season – stock up and enjoy! Plus you can boil the rinds to freshen up your kitchen!
Move your body. Try to get in a brisk 30-minute walk each day. Break it up into three 10-minute intervals if you need to – just find your groove and do it daily.
Do less so you enjoy more. Say no to a thing or two, choose priorities, set boundaries, and don't over schedule. Personal "me" time is so so important – take time to find some peace and enjoy the magic of the season.
Laugh out loud! Be playful, have fun, and let yourself really enjoy each moment.
Shake things up. Try some new holiday traditions (maybe a new game or volunteering). Ask around for some colleague's, friend's & family favorites and incorporate one or two this holiday season.
Ask for help. Welcome the opportunity to delegate tasks to family, friends, colleagues and paid professionals. If the holidays are a stressful time and you're just trying to find a way through – speak up! You are not alone.
Take a tech time-out! Take a timeout from electronics to be more present and truly enjoy your time with those you're with.
Give generously. Now especially so many organizations are in need of our help – this may be going to visit people who are home or housebound, donating gently used items, helping out at a local shelter or soup kitchen, knitting hats, gloves or blankets, or a financial gift – there are so many opportunities and different ways to give. Find what feels good to you, something you believe in, and give.