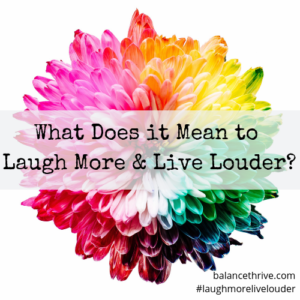 If you're reading this, chances are you've come across my course Laugh More, Live Louder. You might be wondering how I came up with the name and what's behind it? Those four words have a lot of meaning in my life and if you join me on this journey, I promise they'll mean a lot to you, too! Here's what it means to me to laugh more and live louder:
You do the things you've always wanted to do. You feel good about who you are and how you're living. You feel connected, real and happy. You take the risks and finally do the things that are on your bucket list. And it means you stop doing the things you hate to do. The things that drain you, suck your energy and make you feel like crap.
You see the purpose in who you are and the life you live. You let go of the unmet expectations and past disappointments that are keeping your stuck and hijacking your happiness TODAY.
You accept yourself for who you truly are. And you live your life according to that version of you. One that feels true to you. You let yourself be yourself. You do things in a way that feels right to you. You set boundaries. Stand up for what you believe in. And stand against what you don't.
You know that you matter. And that you can make a difference. You can change the world by how you live. You inspire those around you. You choose to be the evidence of all the good, of what matters most, and of what's possible.
If any of this resonates with you, I encourage you to visit my course page here and learn more about the power of laughing more and living louder.