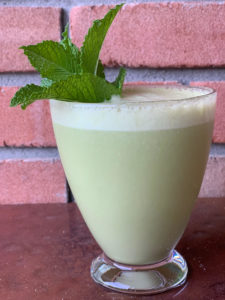 Ingredients:
1/2 banana
1 cup pineapple
1 cup almond milk
Handful of spinach (also okay to skip if you want to make this an actual pina colada – way better than the mix!)
Quick note:
I usually eyeball the liquid. I prefer to start small and add in more to get the consistency I like. It also depends on if your ingredients are frozen or not. You can also use coconut milk and/or water.
Method:
Blend on high until combined.
I LOVE my Vitamix, it was well worth the investment. If you're interested in boosting up your home prepped foods, it's worth looking into!