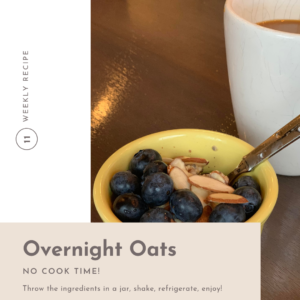 On busy weekday mornings, having overnight oats waiting for me in the fridge is a lifesaver. These are so easy to throw together and you can customize the toppings to make everyone in the family happy.
Ingredients:
1/2 cup quick steel cut oats
1/2 cup almond milk
1 TBSP chia seeds
1 TBSP maple syrup
Dash of cinnamon
Method:
Combine all ingredients in a mason jar with a lid. Shake to combine. Leave in fridge overnight. The next morning remove from the fridge – top with nuts, seeds and berries of choice and enjoy!