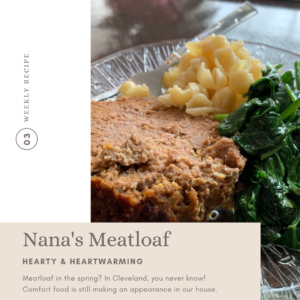 This spring has been all over the place so this meatloaf recipe made an appearance when it was cold and rainy mid-April and we were in need of some good old fashioned comfort food!
This recipe is an amended version of my Nana's meatloaf recipe. While I didn't do it this time, I almost always sauté up some carrots and onions to toss in – zucchini works great too! It can be easier to get everyone onboard with eating their veggies when they're cooked in!
The night I made it, we had it with sautéed kale and homemade sweet potato fries. This photo is lunch the next day when we had mac & cheese  instead because – leftovers with a toddler :).
Hope you love it as much as we do!
Nana's Meatloaf
Ingredients:
2 lb grass fed ground meat
2 pasture raised eggs
1 1/2 cup panko bread crumbs
2 TBSP Italian Seasoning
1 tsp salt
1/2 cup warm water
3/4 cup ketchup
Method:
1. Mix together
2. Bake at 350 for 1 1/2 hours
3. Enjoy!