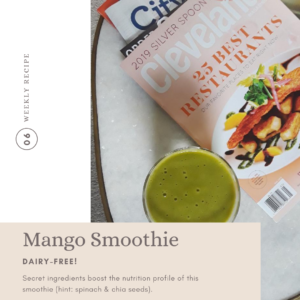 This dairy free mango smoothie is so refreshing and full of healthy ingredients like spinach and chia seeds. Not a fan of leafy greens in your smoothie? Don't worry, you won't even taste it (although it does look a little green)!
Ingredients:
1/2 c. frozen mango
1/2 banana
1 large handful of spinach
1 tsp chia seeds
1/2 c. coconut milk yogurt
water to cover
Method: 
Blend & Enjoy!