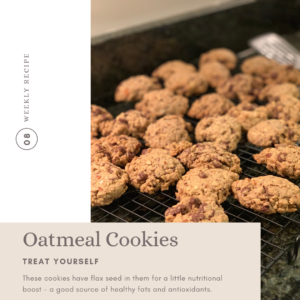 I believe in dessert and indulging. Food is a source of nutrients, but also a source of pleasure – let's not forget that. I strongly believe the problem with sugar is the insane amounts of it we're consuming – especially hidden sugars that come in processed and prepackaged foods.
If you're making most of your food at home, you know what's going into it, and you can judge if you're tipping the sugar scales, because it truly is all about balance.
Ingredients:
1/2 cup butter, softened
1/2 cup brown sugar
1/2 cup granulated sugar
2 eggs
1 tsp vanilla
2 TBSP flax seed
1 1/2 cups all purpose flour
1 tsp baking soda
1 tsp ground cinnamon
1/4 tsp himalayan salt
3 cups steel cut quick oats
1 cup shaved almonds
1 cup chocolate chips
Method:
1. Preheat oven to 350.
2. Beat butter and sugars until creamy.
3.Add eggs, vanilla and flax seed – beat well.
4. Stir in flour, baking soda, cinnamon and salt. I use one bowl and things turn out fine. If you prefer to mix the dry ingredients and then add them, have at it!
5. Stir in oats, then almonds and chocolate chips.
6. Stir until just combined.
7. Drop tablespoonfuls onto parchment lined cookie sheet. You may need to form the dough with your hands if it crumbles – don't worry cookies will still be great.
8. Bake for 10-12 minutes.
9. Cool on wire rack.
Enjoy!