Are you ready to finally be really, truly happy?
If so, then there's something you need to know. Who you are and what you want matters. Your happiness matters. And you being really, truly happy is a lot easier, and way more accessible, than you ever realized.  
Happiness happens when how you live every single day is in line with who you are and what you want – even when those days are messy, complicated or hard.
It happens when you reconnect with the core of who you are – who you've always been deep down, and you dream a new dream and create the life you want from that place.
And it happens when you decide it happens.
This is a process of reconnecting, of letting go, of stepping into and of embracing so that your life is a genuine expression of you. You just have to be willing to show up, to take the steps and to be open to possibility.
Simple shifts will happen and then one day you wake up different, feeling more like yourself than ever before.
You know deep down that you're meant for more, and now you'll have the steps can you can take to get you there. The steps to set you free so you can live your life in a way that feels exactly right to you. In a way that feels happy, purposeful and fulfilling.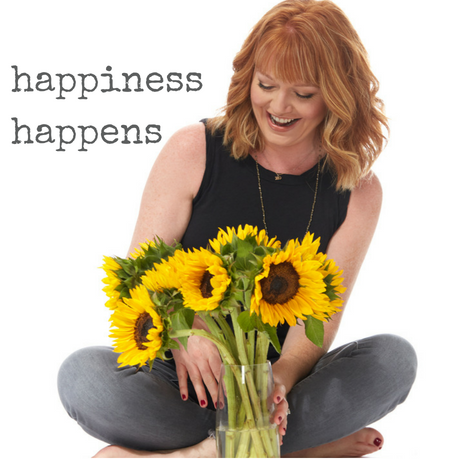 In Happiness Happens, author Emily Capuria, LISW-S, CHHC presents a 10-week process of self-discovery that will show you how to align who you are, what you want and how you live. This is how happiness happens!
This book is not about faking it until you make it or focusing only on the good. It's not about skewing your perspective, following a cookie cutter format or becoming someone other than who you are. It's about making the shifts (the ones you know you need to make) while also embracing your reality and the many contradictions in your very real life.
This book will teach you how to reconnect to who you are at your core. How to dream a new dream and create a big, beautiful (albeit messy) and imperfect life that is a true expression of you.
Discover how to get rid of all the stuff that doesn't work. And have a little fun along the way!
What people are saying about Happiness Happens…
I love this!!!
Emily has written a super friendly book to help you navigate through a mental shift in happiness. The basic thesis of her book is that living a life in which happiness is dependent on… losing 10lbs, getting the perfect man, having a baby or fill in the gap… is going to create a fragile and unstable and ultimately unsustainable happiness. She guides you in a gentle, but thorough way your thinking and gives you concrete approaches to creating a shift which can become your long term lifestyle – happiness.
Tamsin Astor – tamsinastor.com
Simple, but powerful process…
Happiness Happens takes you on a no nonsense, fluff-free journey towards finding what truly brings you happiness and joy. The introspective reflection questions and the practical exercises in the book really help you take deep into what is true for you. Emily walks you through a simple, but powerful,  process that helps to shine a light at all of the moments, experiences, and interactions that you might be overlooking in your daily life. By illuminating these areas it serves as a guiding light towards coming back to the true you; the happy you. I would recommend this book for anyone who is ready to take a step into a better, happier version of themselves. 
Lauren Dobey – New York, New York
Wow! I have finally stumbled on what I have been looking for…
Over the years, I have seen countless self-help books. The 'follow these steps' books. Since they were always about someone else's journey, their answers did not help me. I just didn't realize this at the time. This is not a book you read…..this is a 'do' book….a 'discover what makes you tick' and then a 'discover how to do what makes you tick' book. It is a book of discovering you…the unique and only you. I love Emily's honesty about her story…..and I love Emily's approach to awakening yourself to your own true inner dreams. Yes, I am 60 and, yes, I am discovering my dreams……and yes, I am starting to live them. Excited to take an active role in creating my today and my tomorrow! Thank you!
Helen – Cleveland, OH
 She digs deep into her own personal struggles…
Emily puts her heart and soul into this work to encourage and motivate you wherever you are at in your life journey. She digs deep into her own personal struggles and how she used them as a catalyst to achieve the transformation she sought in her own life. Inspiring and remarkable story!
Anisha Durve, D.O.M. A.P. – www.anisha.guru
About Emily
Emily Capuria, LISW-S, CHHC is a writer, speaker and coach. She is the creator of the Laugh More, Live Louder course and author of Happiness Happens: a 10 week guide to reconnect with who you are, dream a new dream & make magic happen. She is passionate about redefining what happiness actually means and showing people how easily accessible it is once you shift your definition and reconnect with who you truly are
She pairs mindset and action strategies with a holistic approach to offer people a unique path to creating a life they actually want to get up and out of bed for in the morning – a life that is a true expression of who they actually are.
Emily lives in Cleveland, OH with her family. When she's not coaching and writing, she's trying to keep up with her puppy/baby tag team, and enjoying time with family and friends. She especially loves 90s hip hop and country music – kitchen dance parties anyone?  The south Jersey shore and pretty much all books. She also pretends to love working out and cooking, but the truth is she mostly just loves feeling strong and eating good food ;).