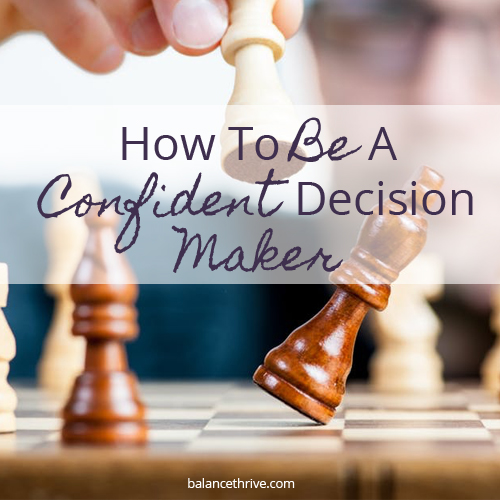 Decisions, decisions, decisions. For some of us they are sooooooo hard to make.
A major reason why is that we are afraid of making the wrong decision. But here's the problem with that, we won't know if a decision is the "right" or the "wrong" one until we are on the other side of it.
Decision made, consequences experienced – that is truly the only way to assess the decision itself. In order to not be paralyzed by the decision making process,  we've got to learn how to get comfortable with two things: uncertainty and "being wrong."
The first, uncertainty, is uncomfortable for many of us. It's why we so often struggle to change. Our comfort zones are well…comfortable. It seems silly to shake things up or to step out into the unknown.
The truth is certainty is an illusion. Way too many of us have the perception that we are in control of much more than we actually are. We think that we can predict the future and accurately calculate the outcome of things.
But let's be real, even the best laid plans can completely crumble.
Give yourself permission to consider your options, then take fast action. Trust in yourself and hope for the best. Step out of that mental ping pong game where you're just bouncing your options back and forth.
This becomes easier when we get comfortable with the idea of "being wrong." Before we go any further with this idea, let me first say that I truly believe that we all make the best decisions we can in any given moment. Sometimes they don't always work out in our favor, but that doesn't make them wrong…even if that's how it feels.
In order to start feeling okay with "being wrong" we have to start letting it to be okay when we make mistakes, even when they're really obvious. We do this by owning up to it. Taking responsibility and taking action to move forward. We all make mistakes, many of us on a pretty regular basis (raising my hand here). Maybe we take a "wrong" turn, loose our cool, forget a meeting, throw away something we need, bounce a check or whatever – the list of potential mishaps is extensive.  
Feeling like we are "wrong" or made a "bad" decision feels so crappy because we make it mean that we are bad, that there is something wrong with us, that we're stupid, that we should have known better or some other version of these beliefs – none of which are true.
In all fairness, the "wrong" decisions are often loaded with negative, costly consequences. It's not fun! But the best decision makers are able to confidently navigate this. They have the mindset that it's all going to be fine no matter how things play out.
Being a confident decision maker is something to strive for because it allows us to take action and keep things moving in our lives. We are more likely to get to where we want to go when we are willing to consistently take decisive action. The more decisive we are, the more trust we have in ourselves.
That trust is gold. It's the exact thing that allows us to create the life we want to live. It makes it possible for us to be who we are and to step into our big dreams with confidence. Sure we might falter, we might even fall, but we know that we can get back up – so we do. As long as we keep getting up and going for it, we are sure to end up somewhere pretty freaking amazing.
Where do you want to go in this lifetime? All it takes to get there is for you to decide to become a confident decision maker – dream into it and get to it.
It's only for the truly courageous, and since you're here reading this, I know that includes you!
Emily xox