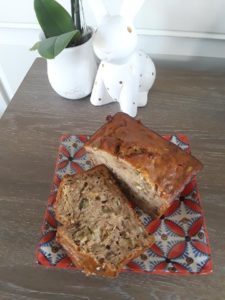 For this week's recipe, I'm sharing a banana bread recipe that's moist and delicious! It's another one bowl recipe that's as easy to make as it is to eat.
Ingredients
1 cup all-purpose flour
1/2 cup almond flour
1/2 tsp baking soda
1/2 tsp salt
1/4 tsp cinnamon
1/2 cup organic unsweetened applesauce
1/4 cup brown sugar
1/4 cup maple syrup
1 1/2 tsp vanilla
2 eggs
3 ripe bananas, mashed
3/4 cup walnuts, chopped
1/2 cup pepita seeds
Method
1. Combine dry ingredients in a bowl, stir to combine.
2. Add in applesauce, brown sugar, maple syrup, vanilla, stir until smooth and fully combined.
3. Stir in eggs until fully combined.
4. Stir in bananas, then walnuts and pepitas until just combined.
5. Pour into greased loaf pan (can also use parchment).
6. Bake at 350 for one hour, or until toothpick comes out clean.
Let cool and enjoy!