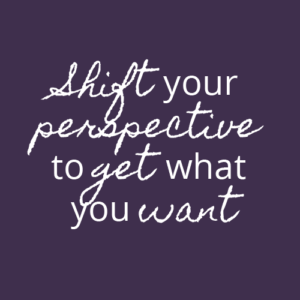 This month in the Make IT Happen Masterclass we're talking about how to get what you want.

I know that I bring this up a lot – but it really is so important (and sooooooo many of us struggle with it). We have to shift our focus from what we don't want to what we do want.

It's the only place to get to where we want to go. It's so easy to get caught up in the go go go, or to focus on what we think we "should" want…sometimes we've even silenced our desires because we've felt disappointed or let down before.

Sure, knowing what we don't want can be helpful BUT ONLY if you are willing to take it one step further and clearly identify what you do want instead.

The Masterclass membership site has some great tools to help with this.

One of my favorites continues to be the do want/don't want list. Simply fold a piece of paper in half and write down EVERYTHING that you don't want, or that's not working. THEN on the other half of the paper write down at least ONE do want (what you would like instead) for every line item.

It's also okay to have 10 do wants for 1 don't want – this is a brainstorming tool to help you shift your perspective and connect with what you really do want.

Once you're done brainstorming literally cross off the don't wants, fold the paper in half again and post that do want list somewhere for you to easily see (it'll help keep you focused in this new perspective).

Once you master this perspective shift, the rest is all about aligning your actions 🙂

Cheers to making IT happen!
P.S. If you are ready to reconnect with what you really do want and design a life that you love to live, I'd like to invite you to join me in the "Make IT Happen Masterclass" – get the details and sign up here.

P.P.S. For a video recap, click here.