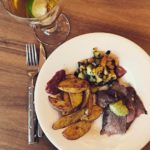 This is one of my favorite meals to make. The whole meal was so flavorful and very refreshing. It's a great dish for anytime of the year!
I make the flank steak and the fries pretty regularly – they are both versatile and can be paired with a number of dishes.
Flank Steak
3 lb flank steak (plan about 1/2 lb per person)
3 limes, juiced
1/4 cup Olive Oil
5-7 garlic cloves, peeled and smashed (I love lots of garlic)
1 tsp cumin
salt & pepper to taste
Combine marinade ingredients and pour over steak in sealed ziplock bag. Let marinate in fridge 2-4 hours, then let sit at room temp for 20 minutes before grilling.  I have made this last minute and just let the marinade sit on the steak for 20-30 minutes – still turns out great!
**great served with a tomatillo salsa verde :)**
Oven Fries
Preheat oven to 425. Line a baking sheet with parchment paper. Slice 5-7 yellow potatoes in half, then each half into thin wedges or planks. Place in bowl and drizzle lightly with olive oil. Sprinkle with salt & pepper, paprika and cumin. (I am pretty generous with the salt and pepper, then a light dusting of paprika and cumin.  Go with your taste preference here!) Toss to coat. Spread in a single layer on baking sheet. Bake for 15 minutes, flip and bake for another 10-15 minutes. I like mine really crispy – so check often to make sure they're the right crispness for you.
**great served with a siracha ketchup**
Black Bean & Corn Salad
1 can black beans, rinsed and drained
1/2 bag frozen corn (can use fresh off the cob)
1 tomato, chopped
1/2 cucumber,  chopped
1/4 red onion, chopped
1 avocado, peeled, pitted and chopped
Dressing
Juice of 1 lime
1/4 cup Olive Oil
2 TBSP honey
1/4 tsp parsley
1/4 tsp oregano
3/4 tsp cumin
2 cloves minced garlic
salt & pepper to taste
Combine first 5 ingredients in large bowl. In a separate bowl combine dressing ingredients.  Pour dressing over the salad. Stir to combine. Place in refrigerator for at least 1 hour before serving.  Note this dressing is enough that you could easily increase quantity of any of the salad ingredients – for example use 2 cans of beans or whole bag of corn. Play with it depending on your taste preference and the occasion (make more for a larger dish). This also keeps well for a couple days in the fridge, but I do recommend using same day prepared.
Enjoy!
Emily xox